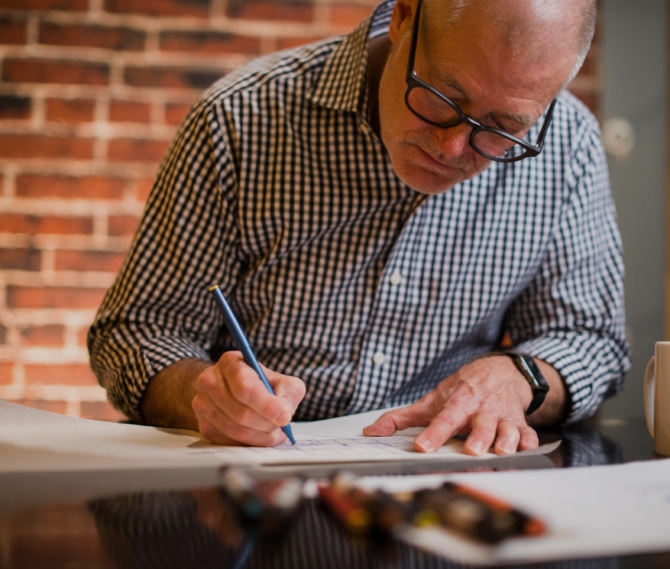 We make buildings that work hard. Like we do. Buildings that are honest and wise, that give out more than they consume. We make buildings that are thoughtfully and artfully crafted. Buildings that are quiet, majestic solutions to real human problems, not the source of new ones.
At GBD, we focus all of our talent and experience and ingenuity and sweat on solving problems and creating better places for humans to be… more human. It requires a deep and thorough understanding of the people who will live, work and play there. Whether that space is a residence, corporate headquarters, university, hospital or commercial building.
Creating beautiful spaces for people means connecting them to light and air and materials made of wood, earth and stone. It assumes a respect for the beauty of the natural environment. The perfect building, in GBD terms, is one that produces more energy than it consumes, and consumes more waste than it produces. GBD was an early adopter of green building rating systems such as LEED, and continues to be one of the nation's leaders in sustainable planning, design and development.
GBD was established in 1969 in Portland, Oregon, as a practice that would excel in three areas: GBD would do a better job of understanding the people they were working with and what their business objectives were, with aim to meet and exceed those objectives; GBD would work harder to consider how each space or building would be used and enjoyed, so they would actually be used and enjoyed; and GBD would be aware, from the very beginning, that a legacy was inevitable. That every decision and interaction would have an impact in some way: the kinds of buildings they built, how they built them, and the way they interacted with each other, their clients and the community. Many of those early GBD clients continue to be some of the firm's most active clients today, as they themselves have prospered and expanded.
The GBD culture is warm, open, collegial, highly professional and yet uncharacteristically down to earth. There is a strong work ethic. There is an obvious passion and love for what we do, a deep belief in how we're doing it, and a respect for who we're doing it with. The "it" is building beautiful, responsible spaces that move and elevate people. Because, in the final analysis, these are not "GBD buildings." These are human buildings.
---
GBD Architects is an interdisciplinary architecture, interior design and space planning firm dedicated to a sustainable built environment. Our staff of more than 80 encourages a highly collaborative office culture that is welcoming, warm and collegial. We love what we do, and are driven by a passion for creating beautiful, responsible spaces that respond to real human needs.